The 104 Best Jokes for Kids That'll Have the Whole Family in Stitches
Crack up your family's budding comedian with these knock-knock jokes, puns and gags.
Anybody who spends any time with kids knows that there's nothing better than a well-timed joke. When you're waiting in line, trying to short-circuit a tantrum, looking for a way to start conversation or just want to hear the giggles, having repertoire of puns and gags comes in handy in a million different scenarios. Things get even sillier when kids start to learn to tell jokes for themselves, in which case you'd better have some for them to memorize.
These child-friendly jokes are short, easy to remember and they make sense — which is not always a given with kid jokes! And yes, they will probably make other adults roll their eyes the next time your child decides to try out her stand-up routine for all of the relatives. (They're not quite to the level of dad jokes, but they're getting there.) Plus, we found more than 100 of them, so you can keep returning to this list every time the material gets stale. And, even though there are a ton of quips on this list, orange you glad we didn't include that tired old banana knock-knock joke?
1
Why did two 4s skip dinner?
2
What do you get when you cross a snail with a porcupine?
3
What do you call an elephant that doesn't matter?
4
What kind of tree can fit in one hand?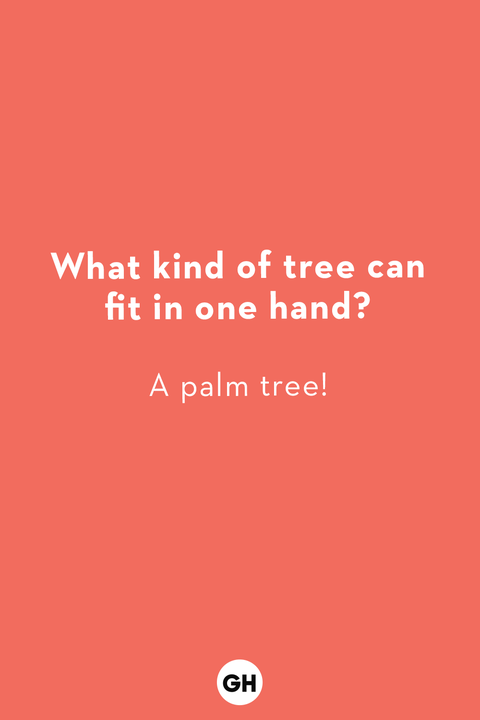 5
Why do bees have sticky hair?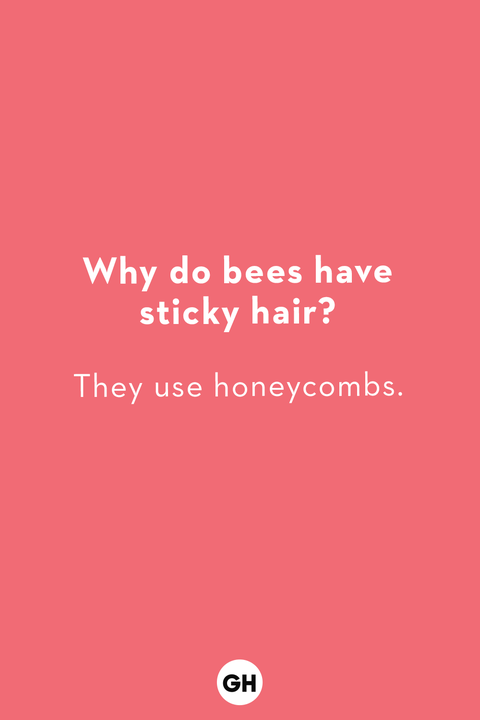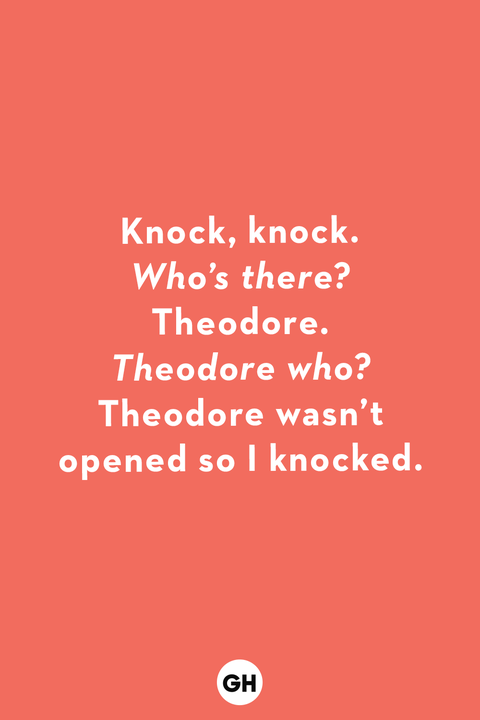 Who's there?
Theodore.
Theodore who?
Theodore wasn't opened so I knocked.
7
What do you get when you cross a rabbit with shellfish?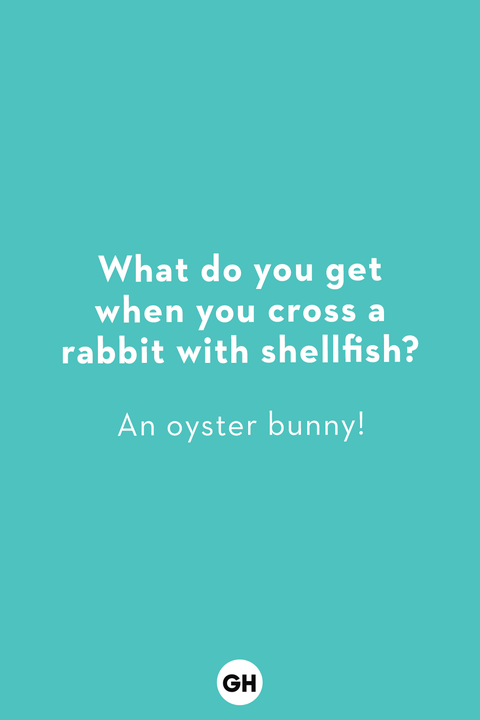 8
Did you hear about the rancher who had 97 cows in his field?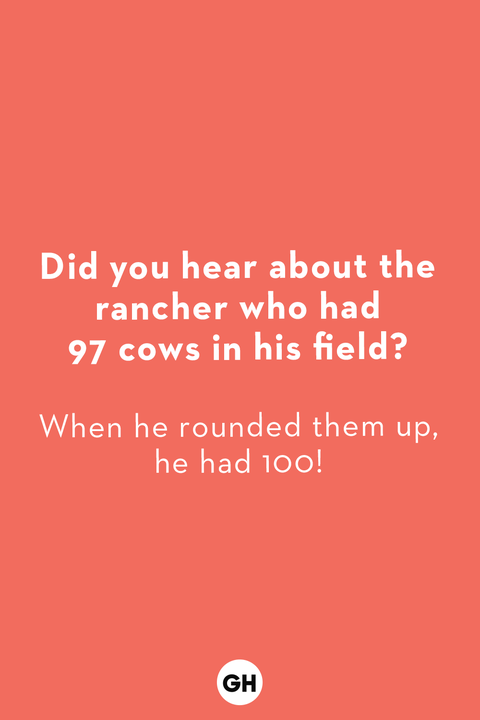 When he rounded them up, he had 100!
9
How do they keep the basketball arena cool?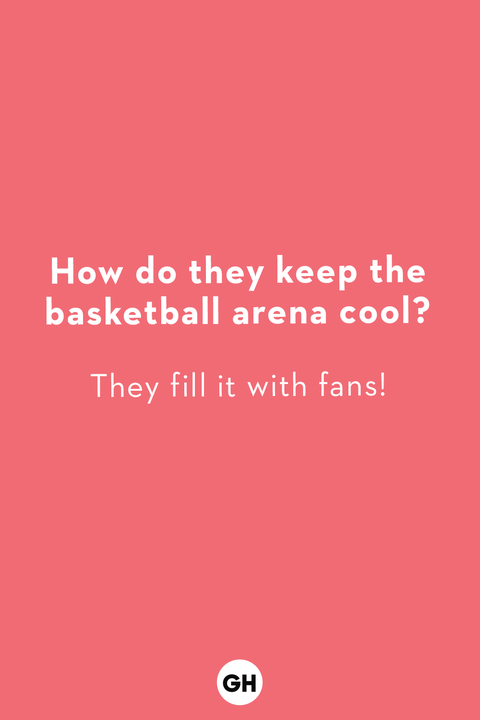 10
What kind of dog does a magician have?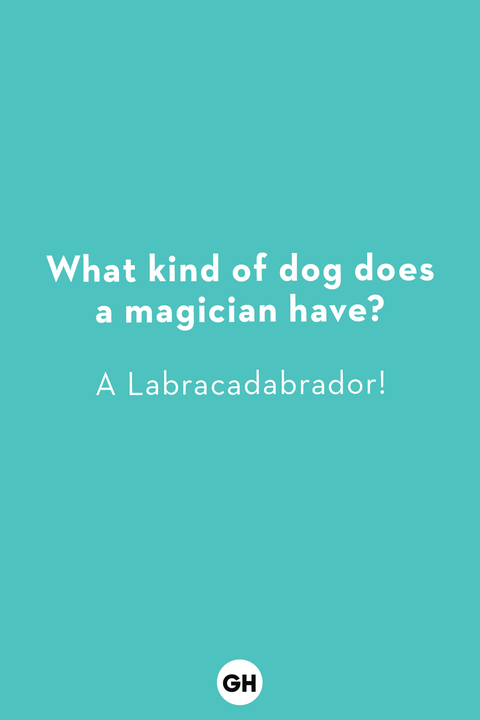 11
What do you call a line of rabbits jumping backwards?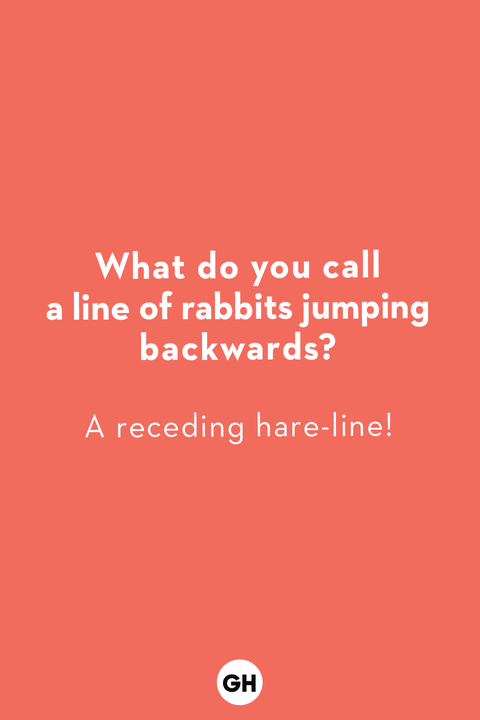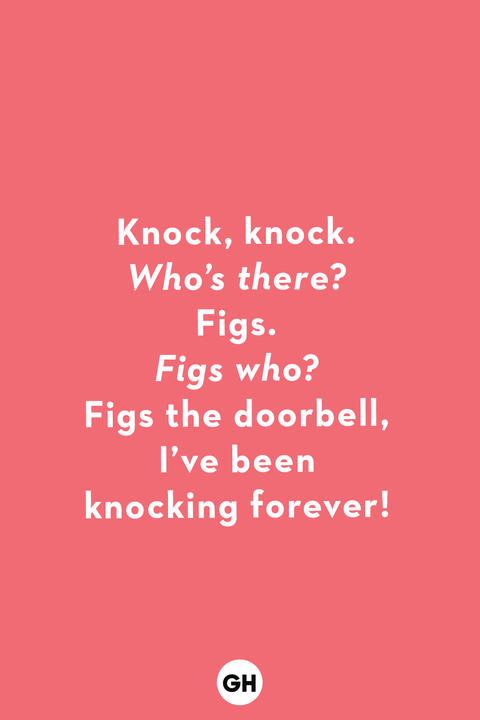 Who's there?
Figs.
Figs who?
Figs the doorbell, I've been knocking forever!
13
Did you hear about the mathematician who's afraid of negative numbers?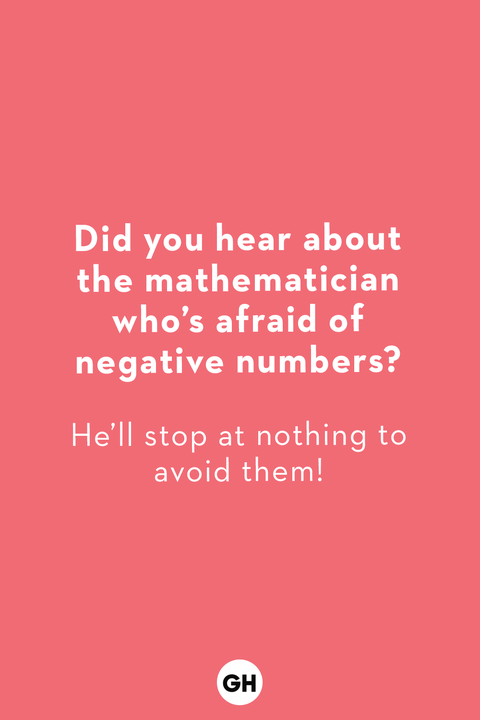 He'll stop at nothing to avoid them!
14
Why does it take pirates a long time to learn the alphabet?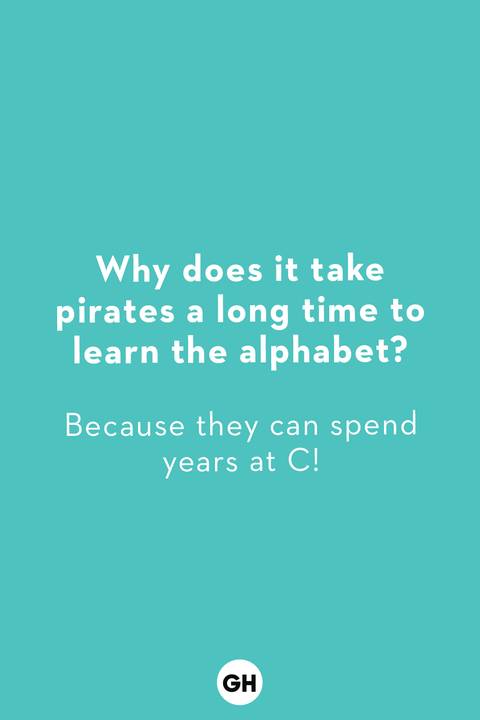 Because they can spend years at C!
15
Why can't you tell a joke to an egg?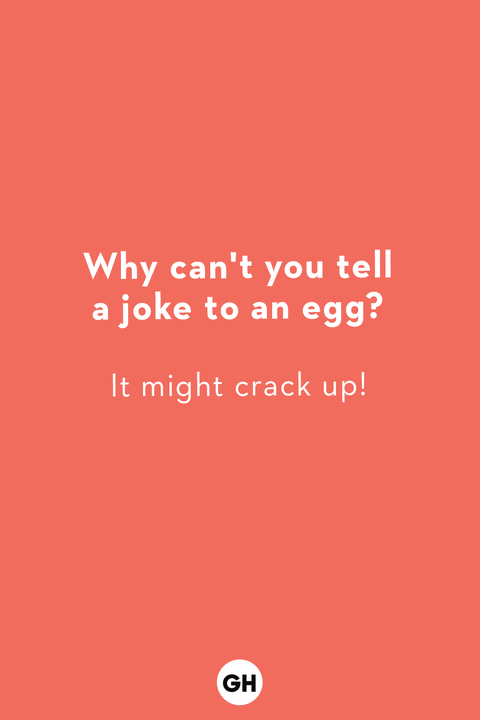 16
What did the triangle feel sorry for the circle?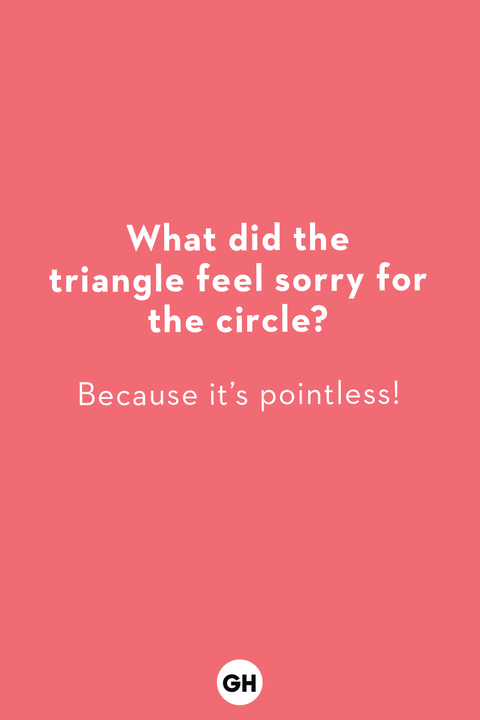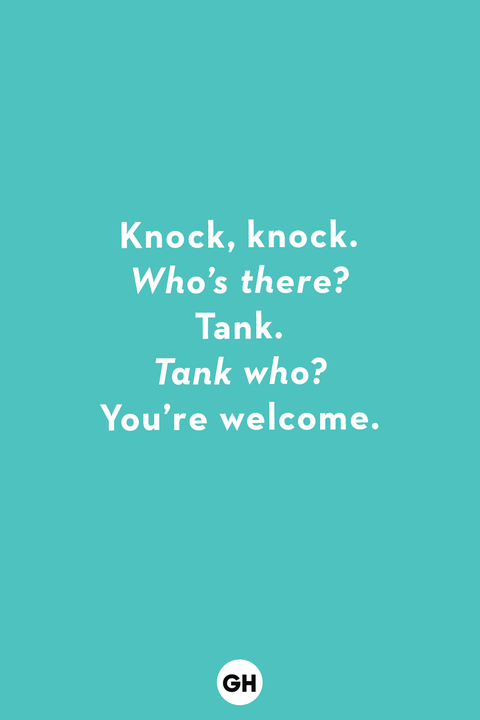 Who's there?
Tank.
Tank who?
You're welcome.
18
What did the bunny say to the carrot?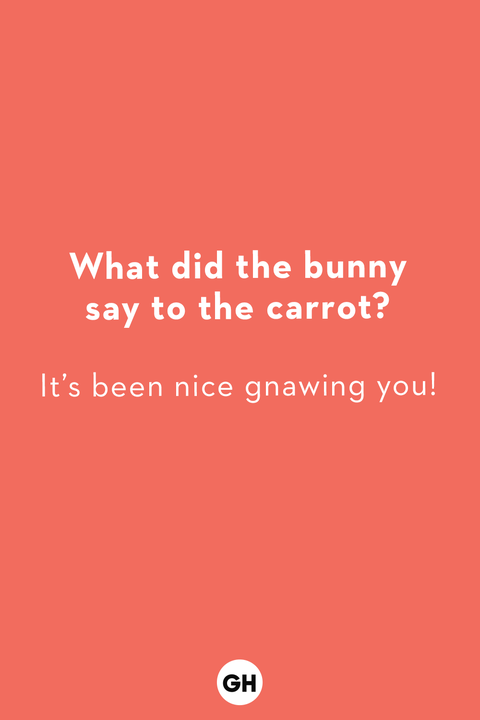 It's been nice gnawing you!
19
Why did the actor fall through the floorboards?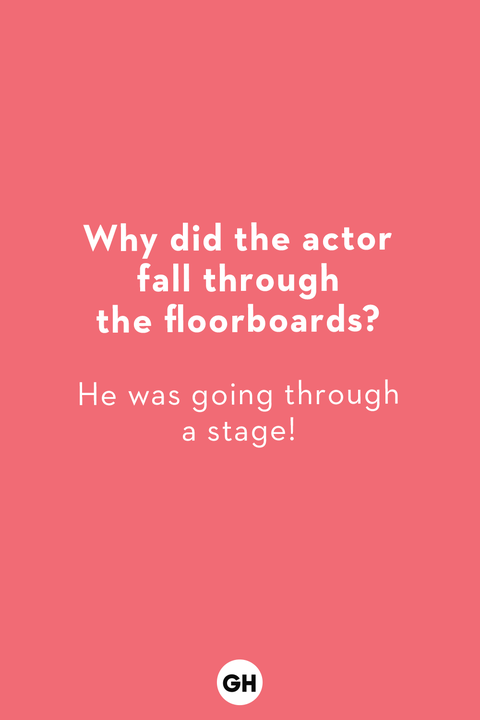 He was going through a stage!
20
What did the lightbulb say to its sweetheart?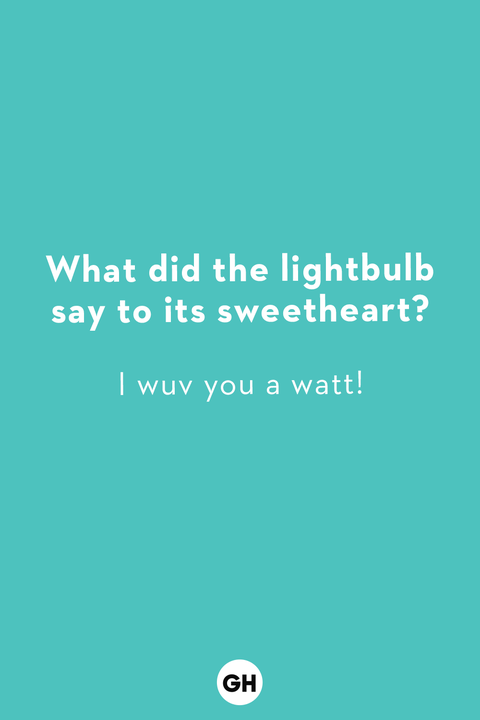 21
What do you call a sad strawberry?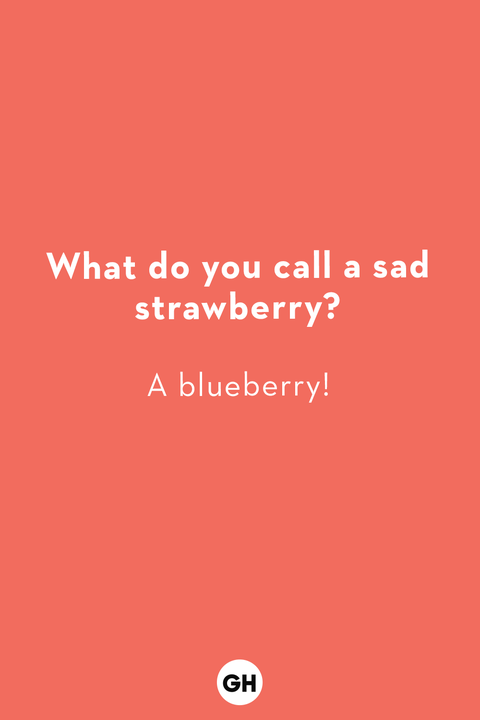 22
What do you call a huge pile of cats?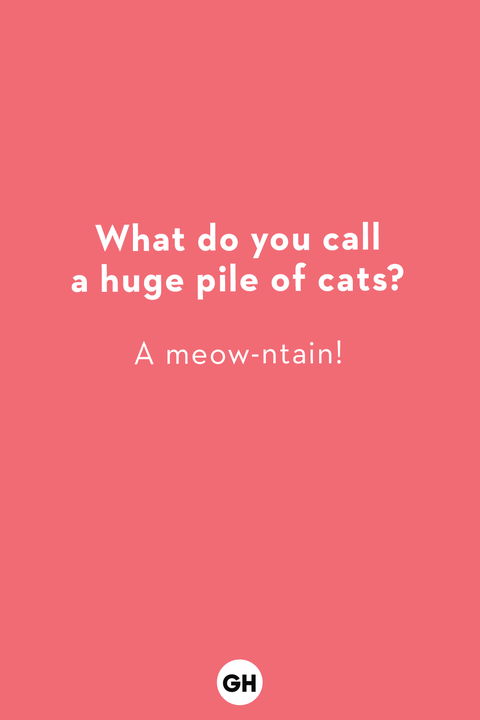 23
Which vegetable do sailors hate the most?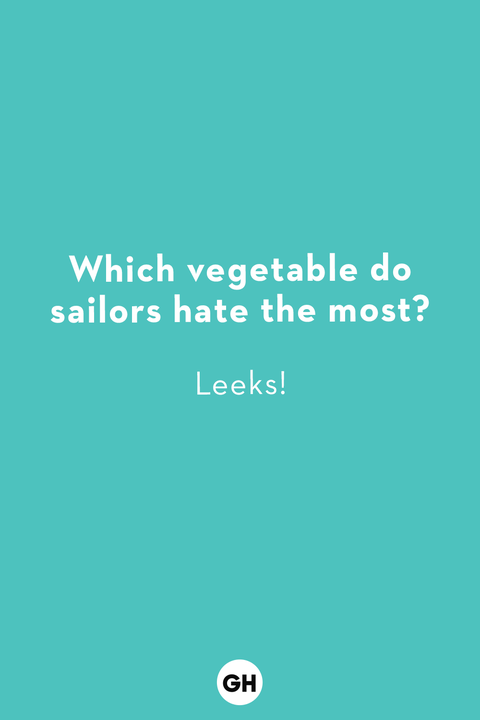 24
What did one wall say to the other wall?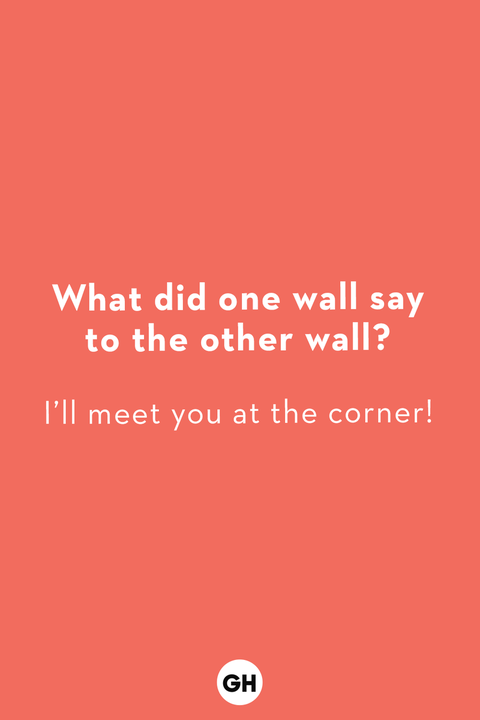 I'll meet you at the corner!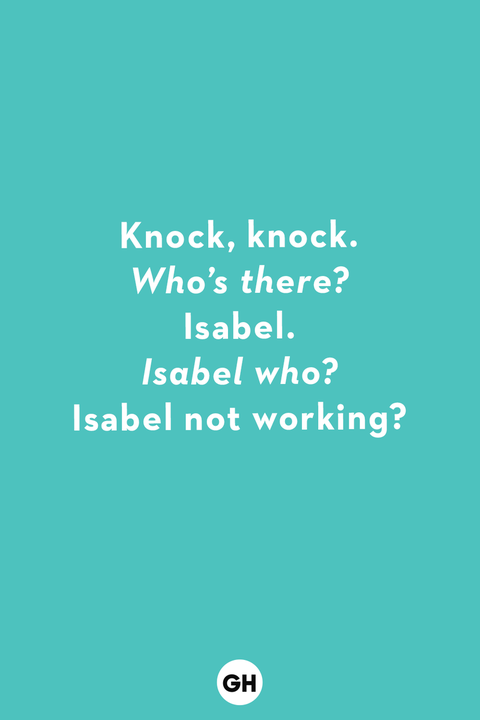 Who's there?
Isabel.
Isabel who?
Isabel not working?
26
What has four wheels and flies?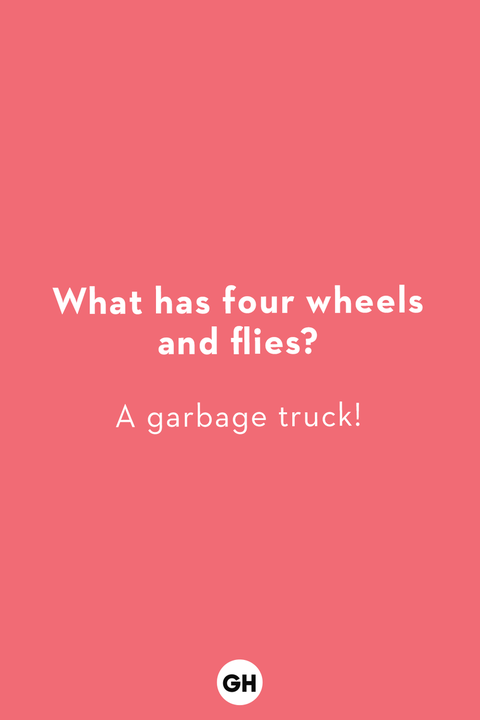 27
Why did a scarecrow win a Nobel prize?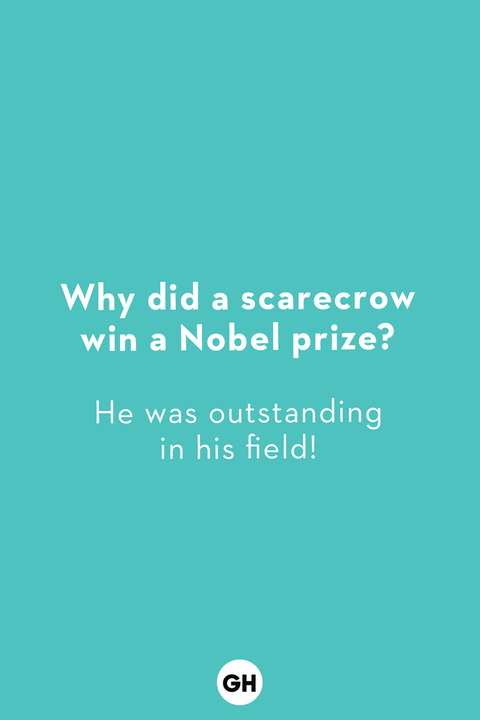 He was outstanding in his field!
28
What do sprinters eat before a race?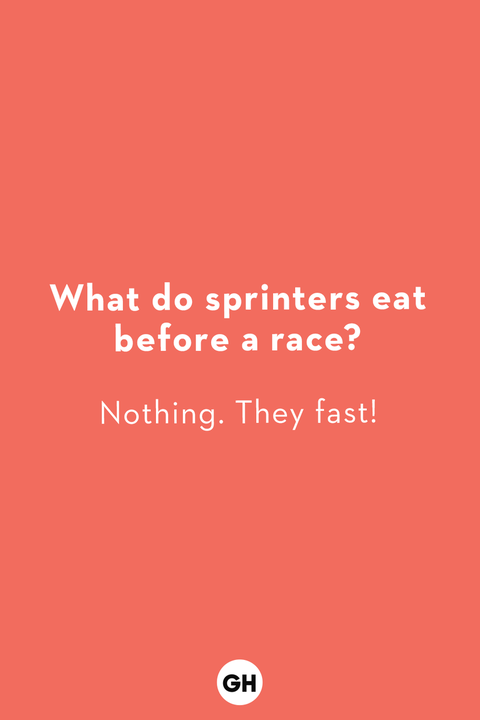 29
What do pirates pay for corn?
Who's there?
Icy.
Icy who?
Icy you in there!
31
What do you call an illegally parked frog?
32
Why are elevator jokes so good?
They work on many levels!
33
How does the moon cut his hair?
35
Why did an old man fall in a well?
Because he couldn't see that well!
36
Why are peppers the best at archery?
Who's there?
Dozen.
Dozen who?
Dozen anyone want to let me in?
38
What's worse than finding a worm in your apple?
Finding half a worm in your apple!
39
Why did the tomato blush?
Because it saw the salad dressing!
40
What did the duck say after she bought chapstick?
41
What do you do when a lemon gets sick?
42
What did the big flower say to the little flower?
43
Why did the kid throw his clock out the window?
Because he wanted to see time fly!

44
Why are fish so smart?
Because they live in schools!
45
Where do polar bears keep their money?
Who's there?
Scold.
Scold who?
Scold outside, let me in!
47
Why did the pony get sent to his room?
He wouldn't stop horsing around!
48
What do you call a bear with no ears?
49
What did the fisherman say to the magician?
Who's there?
Water.
Water who?
Water you asking so many questions for, just open up!
51
What do you call a cheese that's not yours?
52
Why wouldn't the shrimp share his treasure?
Because he was a little shellfish!
54
Why is Cinderella bad at soccer?
Because she's always running away from the ball!
55
Why did the picture go to prison?
56
Where do cows go on Friday nights?
57
What did one eye say to the other eye?
Between us, something smells!
58
Why do bicycles fall over?
Because they're two-tired!
Who's there?
Hatch.
Hatch who?
Bless you!
60
What does a rain cloud wear under her dress?
61
Why couldn't the pony sing "Happy Birthday?"
Because she was just a little hoarse!
62
If a seagull flies over the sea, what flies over the bay?
63
What did the buffalo say when his little boy left for school?
Who's there?
Annie.
Annie who?
Annie body home?
65
Why did the cookie go to the nurse?
66
Why do vampires seem sick all the time?
Because they're always coffin!
67
How can you make a tissue dance?
Put a little boogie in it!
68
What kind of room doesn't have doors?
69
Which hand is it better to write with?
Neither, it's better to write with a pencil!
70
What animal can you always find at a baseball game?
Who's there?
Boo.
Boo who?
Don't cry, it's just a joke!
72
What does the ocean do when it sees its friends?
73
What did one snowman say to the other snowman?
It smells like carrots over here!
74
Why did the golfer wear two pairs of pants?
Just in case he got a hole in one!
75
How do you make an octopus laugh?
76
What has four wheels and flies?
Who's there?

Lettuce.
Lettuce who?
Lettuce in, it's cold out here!
78
Why did the boy throw a stick of butter out the window?
Because he wanted to see a butterfly!
79
What did the sink say to the toilet?
Wow, you look really flushed!
80
What kind of key opens a banana?
81
What's the difference between a guitar and a fish?
You can tune a guitar, but you can't tuna fish!
Who's there?
Cows go.
Cows go who?
No, silly! Cows go, "Moo!"
Who's there?

Owls go.
Owls go who?
That's right!
84
What did the traffic light say to the car?
Look away, I'm about to change!
85
How do you keep a bull from charging?
Take away its credit card!
86
Where do pencils come from?
87
What gets wetter the more that it dries?
Who's there?
A little old lady.
A little old lady who?
Hey, I didn't know you could yodel!
89
Why was 6 afraid of 7?
90
Why was the broom late?
91
Why did the teddy bear not ask for dessert?
Because he was already so stuffed!
92
What do you call a fake noodle?
93
Why can't a hand be 12 inches long?
Because then it would be a foot!
Who's there?

Nana.
Nana who?
Nana your business!
95
Why did the student eat his homework?
Because his teacher told him it would be a piece of cake!
96
How do you get an astronaut's baby to stop crying?
97
Why are ghosts bad liars?
Because you can see right through them!
98
What did the paper say to the pencil?
Who's there?

Spell.
Spell who?
Okay, W-H-O!
100
What do you call a dinosaur with bad vision?
101
Why was the math book sad?
It had too many problems!
102
What can you catch, but never throw?
Who's there?

Toodle
Toodle who?
Toodle-loo to you, too!
104
Join Our Membership Club for All-Access
This content is created and maintained by a third party, and imported onto this page to help users provide their email addresses. You may be able to find more information about this and similar content at piano.io